I'm the featured blogger for the Toddle Along Tuesday blog hop! If you're a new reader, welcome! We've got a lot going on this week, so make sure you check back for more posts!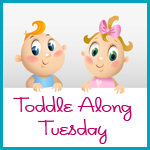 So last week we were in San Antonio, visiting my parents. Not counting my maternity leave with the Froggy, I haven't really had any time off from work since last Labor Day (and let's be honest, maternity leave is NOT a vacation of any shape or form) … so a few days off next to the pool were definitely needed. It was ridiculous how much I was missing my momma and daddy as well. Spending time with them was awesome.
We drove down after work on Tuesday night. The *plan* was for us to drive for about an hour, and then stop for a quick bite to eat, change/feed the Froggy, and then let him sleep for the rest of the way down (since it would be his bedtime at that point anyway). Yeah … that didn't really happen. Poor dude didn't fall asleep until around 845pm.  He just really does NOT like his car seat. I can't wait until he's sitting up and we can switch him out to the convertible seat.  We got in that night around 1030pm and pretty much all fell into bed.
We spent the next five days doing just about whatever the heck we wanted to do. There was much swimming, laying by the pool, playing games, eating good food … everything I wanted to do on my staycation and nothing I didn't want to.

I got a pedicure later that week, I swear.
We spent a LOT of time swimming. The Mouse is a regular fish these days and absolutely LOVES the water. He had so much fun jumping off the 'jumping rock' and just generally being thrown around the pool.
The Froggy got some pool time too … he took to water like a little, well, frog.

And then had a nap where I found him like this.
My sister came down from Austin as well … and brought her 'baby' with her too. He's just a month older than the Froggy … and weighs 90lbs.

The Mouse absolutely LOVED him.
We took a walk one evening to see if we could spot some deer. We weren't disappointed. And can I just say that walking a toddler and a 6 mo. old Great Dane puppy went a LOT better than I had anticipated.
And oh, my boys. They were so good. I really enjoyed just hanging out with them and watching them have fun.

This photo melts my heart into a big fuzzy puddle. True story.
SUCH a good time. And as much as I hated to make the drive home on Sunday (which by the way, went MUCH better than the drive down, the Froggy slept the entire 5 hour trip), it was oh-so-good to be home. In MY bed. With MY pug. With the Mouse's toys, and the Froggy's glider. My home is awesome, albeit an absolute MESS from the lack of unpacking that happened that night.
Only 9 weeks until our next little family trip. Not that I'm counting …